Description
Our GUIDER is a classic pistol-grip style handheld radio transmitter that's built to be used. They've been around and in the field day in and day out for over ten years now, and there are lots of reasons why.
Our switches are best-in-class: they're rated for millions of operations, and internally sealed with an additional external sealing boot. Onboard diagnostics let you know whether you've got a good radio link or not and let you know at the handheld whether you've got any issues on your machine. They run off of rechargeable battery packs or replaceable AA batteries, enough to give you days of solid performance, and a low battery indicator lets you know well ahead of time to get a charge in. If your batteries are totally shot, you can always run off the backup wire tether cord if it's configured for it.
We've got loads of standard and configurable versions available in stock, and customize these for OEM applications all the time.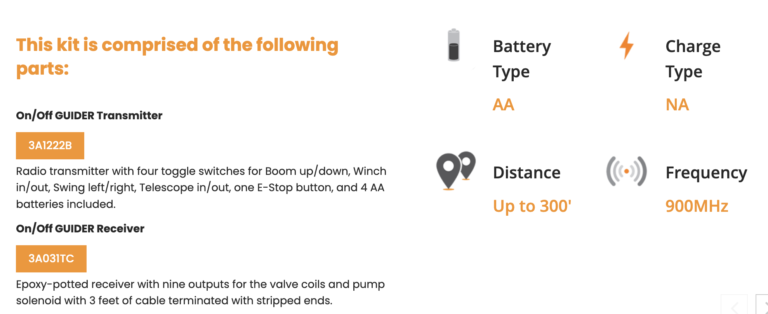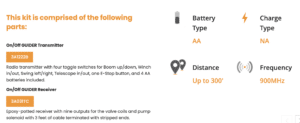 | | | | | |
| --- | --- | --- | --- | --- |
| On/Off GUIDER Transmitter | | 3 Position Toggle Switch (ON)-OFF-(ON) with Boot | 3 Position Single Pole Toggle Switch (ON)-OFF-(ON) with Screw terminal | Toggle Switch Sealing Boot |
| Pushbutton Switch | GUIDER Battery Cover with Magnets, Yellow | GUIDER Back Cover with 4 AA Battery Housing-Yellow (no magnet)-Black Connector | GUIDER Back Cover with 4 AA Battery Housing-Yellow with Magnet-Black Connector | On/Off GUIDER Receiver |