Description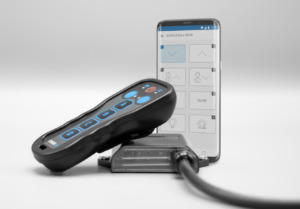 What is ICARUS Blue? ICARUS Blue is an app-controlled receiver with Bluetooth wireless technology! ICARUS blue allows you to control a wide variety of hydraulic applications, electric motors, lighting, and much more, uncomplicated and individually with your smartphone or tablet.
Reliable, safe, and cost-effective!
Control versatility
No matter whether you want to control your application in a classic way using a handheld transmitter, conveniently and individually using a smartphone, or via the smartwatch on your wrist – all this is possible thanks to the Bluetooth standard!
Interference resistance
Bluetooth works with a so-called "adaptive frequency hopping" method. This not only prevents interference with each other or other devices but also ensures a secure and stable connection.
Built-in wireless bidirectional communication
Unlike conventional radio remote control systems, ICARUS blue always is equipped with bidirectional communication. This means that not only commands and information can be sent but also received. And all this without the complicated and costly process of wiring.
---