Description
P/N A3A1084B (for use if you do not have a switch)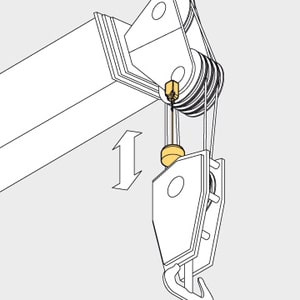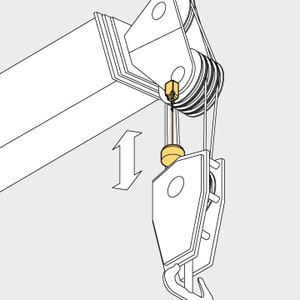 This wireless system eliminates both the cable reel and the anti-two block switch and the headaches associated with them. The self-contained switch is immune to mechanical failures and water damage since both the switch and the receiver are designed with solid-state components that are fully encapsulated; the system is designed to be as hassle-free as possible.
There's no need to worry about the potential for a cable being broken by branches or other objects, and no more need for a cable reel. This is also a perfect solution to eliminate the corrosion factor in the reel contacts and their loose springs. Installation is as simple as mounting the wireless switch at the boom tip and installing the receiver at the base of the boom.
This simple installation allows OEM's to reduce manufacturing costs by removing brackets, wire guides, and the associated labor.
The normally closed signal is transmitted wirelessly within a 200' range with a nearly instantaneous response time. Intelligent radio-frequency power adjustments enable the maximum possible battery life – and when battery changes are required, just two common alkaline C batteries get you back up and running for several months under usage. An alarm output is present at the receiver along with a red LED for indication of low battery and ATB switch.
The combination of frequency hopping spread spectrum technology and ID-coded transmissions virtually eliminates both interference and cross-talk between adjacent trucks using the wireless ATB and other wireless remotes used on the crane.
Our electronics are designed for the mobile environment and can be left outside indefinitely with no issues. All electronics are polyurethane-potted, effectively turning them into a hockey puck. The systems are designed for 12/24V operation and will supply up to 5A on the ATB/normally closed output.
For a similar system for use if you already have a switch – Wireless Anti-Two Block Switch
Technical Info
More Information

| | | | | | |
| --- | --- | --- | --- | --- | --- |
| WEIGHT | 4.000000 | HEIGHT | 2.23″ | WIDTH | 5.27″ |
| DEPTH | 3.54″ | COMMUNICATION | 900 MHz FHSS | SUPPLY VOLTAGE | Transmitter: 2 C-sized Alkaline / Receiver: 9–30 VDC |
| OUTPUT RATING | Five amp maximum, protected | CONNECTOR | Four conductor 18ga. cable | STANDARD OUTPUTS | One normally closed ATB output; One normally open for transmitter low battery |