Description
C346 Preset Counter
Available With LCD Or LED Display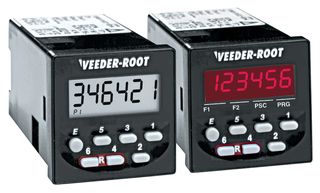 Never has so much performance been packed into such a small package. The C346 is a full-featured preset counter that can be field configured to perform as a rate meter or an elapsed time counter, both with outputs. Chose an LCD display or the industry's only 6 digits, 48mm x 48mm preset counter, with an LED display.
Functionality and simplicity go hand in hand – all models can be configured through the front panel to accept inputs from dry contracts, encoders, or photoelectric or proximity switches with either PNP or NPN outputs. Its input can be easily scaled using a multiplier constant, allowing display in Feet, Meters, Gallons, etc. Important parameters such as the presets and the prescale value can be called up with direct access keys. Preset values can be quickly entered or changed using a simple button per digit method.
Choice of LED or LCD display to meet any viewing requirement
Scale Function enables the display of Engineering Units (Length, Volume)
Button per digit setting and direct access keys simplify setup and operation
Add / Subtract, Add / Add, and quadrature input modes
Accepts input signals from a variety of sources: Dry Contact, PNP or NPN Sensors, and Encoders
Can be field configured to perform rate metering or timing functions
Relay and transistor outputs programmable for latching or timed operation
Reset via Front Panel, Remote Input or Automatically
12 – 24 VDC auxiliary supply for powering input devices
NEMA 4/IP65 rated front panel for use in washdown environments
Single or dual preset models are available. Each preset features a transistor output, which can interface to an external SSR or a PLC, and a relay output for directly driving a load. Outputs can be programmed for latching or timed operation. An auxiliary power supply simplifies the wiring of inputs, and the draw-out case enhances serviceability. The NEMA 4 rated front panel enables use in washdown environments.