Description
Programmable incremental encoders
Simplified inventory, quick reaction by short lead times
Pulse number, output stage HTL / TTL, pulse sequence and zero pulse programmable
For end users, wholesalers and system integrators
For varied and multi-faceted applications
Cutting down on product variants, downtime, maintenance and inventory cost
The new standard for incremental encoders in 58 mm design
Flexible, robust, precise.
The incremental OptoPulse® EIL580 series encoders set a new standard in 58 mm design. Modular robust design and state-of-the-art scanning technology of the basis for different product versions that always allow you to select the correct encoder for your application – and always with an excellent price/performance ratio.
Product portfolio
---
Video "Programming EIL580P"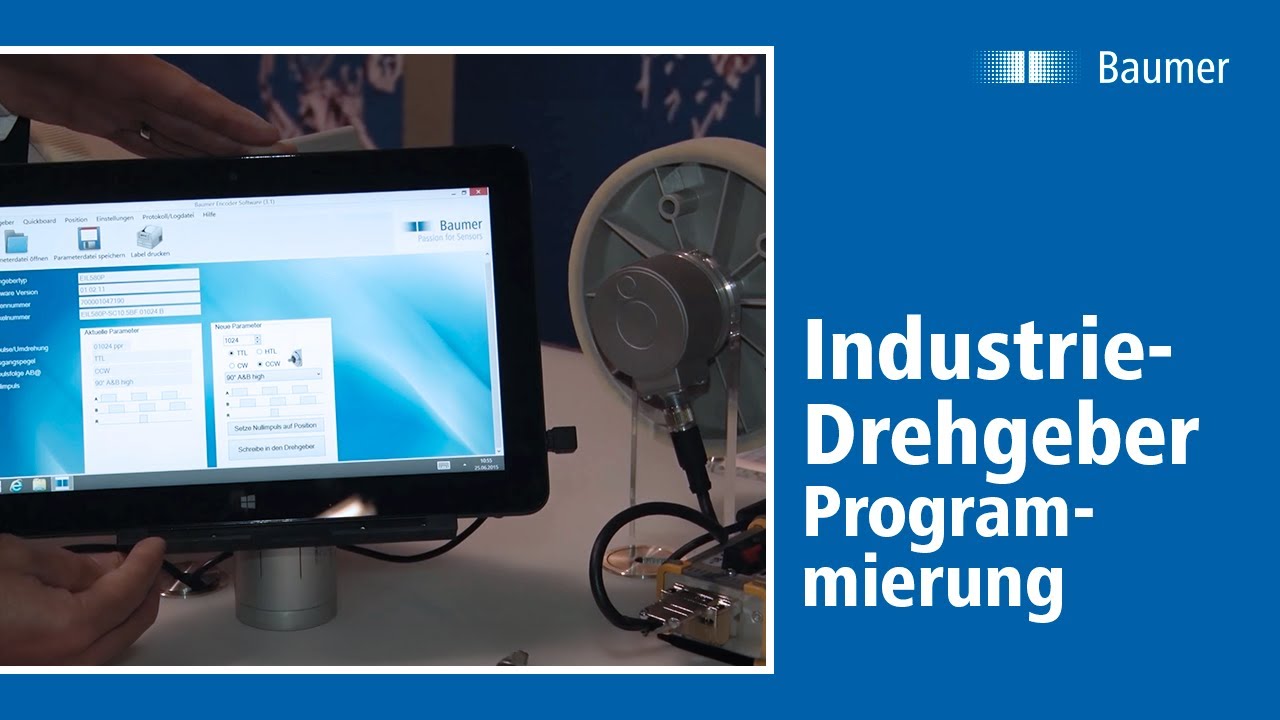 Easy programming with handheld: With the compact handheld, you can program a rotary encoder in a matter of seconds – even if it is already installed in the system. The battery-powered stand-alone solution is very easy to use.
Comfort programming with PC software: The convenient PC software is ideal if you want to program several encoders in series as a distributor or drive manufacturer. You simply select the appropriate configuration and a mouse click later the encoder is already programmed.
---
Your benefits
Cutting down on product variety, downtime, maintenance and inventory cost

Pulse number, output stage, pulse sequence and zero pulse programmable

An easy way to the right product

Solid shaft with clamping flange, synchro flange, square flange, EURO flange B10, blind or through-hollow shaft, all standard pulse numbers and output stages

Flexible

Modular building block system, for every encoder application the perfect match, customer-specific variants on request

Robust

Solid and thick-walled aluminium die-cast housing, absolute reliability and maximum durability. Preventing machine failure and downtime

Resilient ShaftLock bearing design

Generously sized and optimally spaced quality ball-bearings prevent the bearing pack from misplacement by high axial shaft load during operation or installation.

Precise

Optical sensing, outstanding precision, maximum control quality and productivity in the application

Cost-efficient

Attractive price-performance ratio, short lead times, optimally harmonized and tested accessories
---
Applications
Precise position and speed feedback in many fields of application:
Asynchronous motors in drive technology
General mechanical and plant engineering
Special machine engineering
Lift and elevator industry
Packaging systems
Labelling solutions
Textile and printing machinery
Wind turbines
---
Technology
Many programmable encoder features with PC software
Any pulse number within 1 … 65 536
Output stage HTL or TTL
Programmable pulse sequence and zero passage, zero pulse 90° or 180°
Easy programming by handheld tool
Programming by four user-assigned buttons
Memory for several encoder configuration profiles
All- intuitive menu navigation during programming
Display with backlight
Clearly visible in any light condition
Encoder diagnostics
LED activity indicator
Convenient programming by PC software
Automatic detection of connected devices
Easy, intuitive operation and programming
Particularly simplified and quick programming by user-created buttons
On-screen encoder diagnostics
On-screen programming feedback
Individualized type labels for seamless product documentation
Logging of all programming activities
Maximum efficiency by implementing encoder parameters in your ERP
Automated product documentation with improved traceability
Automated parameterization straight in the manufacturing process
Serial number and encoder parameterization linked to the related production order
Encoder configuration immediately adapted straight in the process
No manual intervention
No production loss, no downtime
---
Downloads
Brochures / Catalogs
Brochure – Selection Guide Encoders and angle measurement

Brochure – Product Overview – Encoders and angle measurement
---